How to use Instagram hashtags? A lot of people have this question why? because Instagram hashtags are one of the most famous tricks to grow Instagram followers but do Instagram hashtags really work? and even if Instagram hashtags work, how to get the most out of them?
Instagram is one of the most used platforms right now. This is no secret that building and establishing your brand on Instagram is relatively easy as compared to other platforms and Hashtags on Instagram play a major role in your Instagram growth.
Many people and even marketers believe that Hashtags don't work on Instagram while some put hashtags on the top of their Instagram marketing strategy bucket.
Once you start exploring Instagram hashtags, you'll have tons of questions like,
Do Instagram Hashtags really work? How many Hashtags should I use on Instagram? What Hashtags should I use? How to use hashtags on Instagram? What are the most useful and popular hashtags on Instagram? Can I use Hashtags in the caption? What are top Instagram hashtags 2020 for likes and followers?
Having a great understanding of Instagram hashtags can give you a big that big leap in your Instagram marketing game without investing hundreds of dollars.
And I have explained each and everything about Instagram hashtags in a very detailed manner.
And before even starting I would like to clear one thing that you can't hope to get much out of hashtags on Instagram without making a proper strategy.
Be it hashtags, ads, or something else, nothing works in Social media marketing without a proper strategy.
Why Use Hashtags On Instagram?
There are many reasons why you should use hashtags on Instagram and even create your own hashtags. Well, If you're new on Instagram let me tell you that yes, you can even create your own hashtags on Instagram.
Here I've mentioned numerous benefits of using Instagram hashtags.
Instagram Hashtags Help To Drive Engagement.
Instagram Hashtags helps you to get very good engagement on your posts and that's the biggest reason why you should use hashtags on Instagram.
Even Instagram itself said the posts that have hashtags tend to perform better than the ones that don't have any hashtags.
But again that doesn't mean the posts without hashtags won't perform well. It's all about how you understand & play with Instagram algorithms.
Basically hashtags pushes that particular post in front of more audience and hence giving it more chances of engagement.
And not only in engagement Hashtags on Instagram also helps to gain followers on Instagram without putting much effort.
Hashtags Make Your Content Easier To Find.
If I had to explain this point in simple words then I would say Hashtags on Instagram are basically like keywords in SEO. Just like keywords helps you find relevant content on search engines hashtags on Instagram helps you to find relevant posts.
Just like search engines, there is a search button on Instagram that works exactly like search engines.
Suppose you want to see some landscape images on Instagram- what would you do then? you'll basically search for "landscape" on the Instagram search bar right? and all the posts which you'll see there are shown because of hashtags.
That way your content will be easier to find as well as it will also be visible to the people who manually search for things on Instagram.
I guess I've made it pretty clear here that not using hashtags on Instagram will only result in losing a lot of potential engagement and followers while on the other hand using hashtags on Instagram will instantly make your posts discoverable to thousands of potential users.
Hashtags Tell Algorithms What Niche You Belong To
Another use of hashtags on Instagram is that they tell the Instagram algorithm about your niche.
Suppose you've been using "#Photography" consistently in your posts, now what will happen is that Instagram algorithms will start treating your account as a photography account and will eventually start suggesting your account ton the people who are interested in photography.
Hashtags Help You Keep An Eagle Eye On Industry
As I said earlier that hashtags make the posts discoverable on the Instagram search and that means you can also keep an eye on what is going on in your industry, what new things people are doing in your industry etc.

Hashtags can also help you keep an eye on what your competitor is doing on Instagram, what campaigns they are running, what they are offering to the customer, and what strategies they are using to gain trust on Instagram.
How To Use Hashtags On Instagram?
Well, enough talk about the benefits of Instagram hashtags, now let's talk about how to use hashtags on Instagram and how to get the most out of Instagram hashtags.
First let's understand the types of hashtags on Instagram-
I have divided Instagram hashtags in 7 types namely-
Product or service hashtags: Hashtags that describe your product or service, like #car, #lappy or #carwash
Special event or seasonal hashtags: These hashtags refer to particular events like #winterdays, #independenceday, #Christmas
Niche hashtags: These get a little more specific, showing where you fit in of your industry, like #travelvlogger or #marketeer
Location hashtags: Tho there us already a geotagging option in Instagram but still it can be a good idea to include a hashtag that refers to your location, like #kolkata, #lasvegastown or #boritosdelhi
Day & time-based hashtags: People even use hashtags on the basis of days and time, for example- on Thursday morning they might use – #thursdayhustle or #mondaymotivation or #morningmotivation
Brand Hashtags- These hashtags are based on the brand name and brand taglines like- #nike, #oneplus, #neversettle or #apple
Acronym hashtags: Perhaps the best-known acronym hashtag is #TBT for Throwback Thursday. Other popular acronym hashtags include #OOTD for outfit of the day, #FBF for flashback Friday, and #YOLO for you only live once.
Hashtags can be used in the caption, comments, and even in stories on Instagram. Some marketers believe that hashtags only work in the caption but that's not the case.
It doesn't matter whether you use hashtags in the caption or comments Instagram hashtags works in the same way but yeah there is one thing for sure that there is a small risk when you use hashtags in comments.
The risk is that when you use hashtags in comments you have to be very quick, in other words, you will have to post your comment filled with hashtags as soon as you publish your post otherwise it'll be lost in the ocean of content.
How Many Hashtags Should You Use On Instagram
Though Instagram has a limit of a maximum of 30 hashtags on posts and 10 hashtags on stories.
Even if Instagram allows up to 30 hashtags that doesn't mean that you should go for the max. Using too many & repetitive hashtags looks spammy and can even lead to a shadow ban on Instagram.
Usually, I suggest people use up to 25 hashtags if their niche is too competitive and up to 15-20 if the competition is not so high. But again you'll need to test it yourself depending on your niche or business.
A Small Instagram Hashtag Secret
Let's suppose, you're using 25 hashtags on an Instagram post, so here what you can do is, you can-
Use 15 hashtags that are very famous and competitive in your industry and can drive good engagement if they took your post on top of the search page. For example- #digitalmarketing
Use 5 hashtags that are not so competitive but yet have a good number of posts under them like- #digitalmarketingtips
Up to 5 Hashtags that define your product/service along with your location like- #Digitalmarketingchennai
You can also include one or two brand hashtags if you want like- #DAGMarketers
Hehe, I hope you liked this little secret trick of Instagram hashtags, anyways keep reading these is a lot more to Instagram hashtags.
How To Find Right Hashtags For Instagram
Putting out random hashtags ain't gonna work anymore, you will have to find right hashtags for your Instagram account depending on the niche you serve in.
There are numerous tools that you can use to find the right hashtags for Instagram like – Sprout Social, Hootsuite, and All Hashtags.
Just enter keywords related to your niche and these tools will give you a huge list of top & hottest hashtags of your industry.
Another way to find relevant hashtags on Instagram is by stealing the hashtags of your top-performing competitor, lol don't worry there are no copyrights over hashtags.
Best Ways To Use Hashtags On Instagram
I think right now we are pretty much clear about what are Instagram hashtags & how Instagram hashtags work & other important stuff.
Now is the time to learn about the best practices of using Instagram hashtags so you can executive your strategy without any flaws.
Avoid Using Banned, Dead, and Spammy Hashtags
Imagine putting on weeks or months of hard works just to get your Instagram account shadowbanned. Nobody would want that to happen right?
There are times when Instagram starts reducing your reach for using banned and spammy hashtags like #singlelife #alone etc.
But first let me tell you the difference between banned, dead, and spammy hashtags on Instagram.
Banned Hashtags On Instagram are those hashtags that are banned by Instagram algorithm but that doesn't mean those hashtags won't be shown when you'll search them or you cant use them. Using banned hashtags for a longer period can even lead to permanent shadowban on Instagram.
Let me show you how a banned hashtag looks like on Instagram-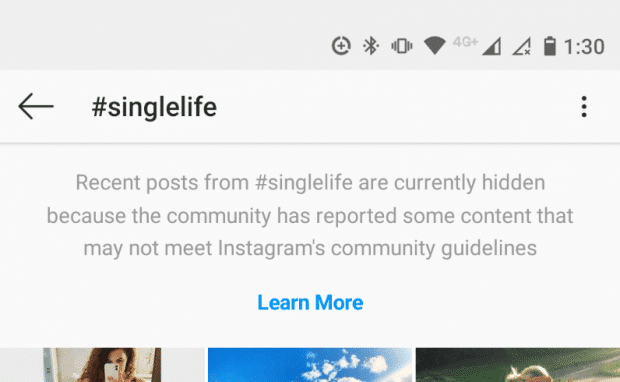 Dead Hashtags on Instagram are those hashtags that not active anymore and people don't even search for them and the kind of hashtags that were once used for a campaign and now people don't even remember them.
Few examples of dead hashtags on Instagram are #cambrigeanalytica or #congress1964.
In other words, these hashtags won't drive any engagement for you and will be as good as nothing.
Spammy Hashtags on Instagram are hashtags that are used mostly targeted by bots.
Few examples of spammy Instagram hashtags are- #follow4follow #like4like.
You know what you'll get good engagement & followers from these hashtags but that all would be for naught because they all will be bots having no intention of meaningful engagement.
Encourage others to use your brand hashtags
Whenever you do any event, seminar, or workshop make sure to promote your hashtags there too. You can even ask your customers to leave reviews on Instagram using your hashtag so that you can create more transparency and loyalty.
Also, Use Instagram Hashtags In Stories
Do you know you can up to 10 hashtags in Instagram stories and your story will be shown under the story icon on the hashtag page? It can help you get more story views.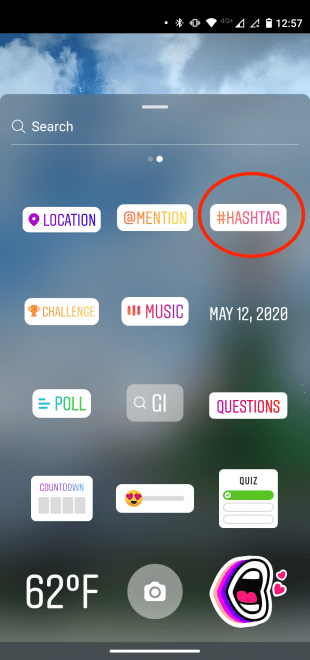 To use hashtags in Instagram stories you simply need to swipe up and click on the hashtags sticker. But this way you can only add one hashtag.
To add more than one Instagram hashtags in the story, you can simply use text tools and # symbol to use Instagram hashtags on the story.
Don't Use Repititive & Irrelevant Hashtags
It is indeed simple to copy and paste that same list of hashtags again and again but think again! Instagram clearly states it goes against its guidelines and hence it should be avoided at any cost.
Another thing is that always manually type all your Instagram hashtags instead of copy-paste.
What if you post something that targets the same hashtags on daily basis?
In this case, try to meld your hashtags in your captions and add some new hashtags too.
Always keep an eye on what your competitors are posting so that you can always get new ideas on which hashtags to use.
Related Articles:
Top 5 Common Social Media Mistakes To Avoid At Any Cost
Jump on trending topics
Using trending Instagram hashtags is a well-known strategy to spike up the engagement and followers in and for a short period of time.
To be honest, industry-related hashtags rarely trend, so you'll have to leverage the general trends and curate content based on those trending hashtags.
For example: Recently, #zomatoboy was trending all around the Indian Social media and everyone was using this hashtag and creating content around this hashtag.
Let me show you how this single hashtag spiked up their engagement.
On an avergae Lays India was getting 600-700 likes on thier posts.
But soon after they joined this trend, their Instagram engagement rate broke the charts. Not only Lays India but each and every brand was using this trend to catch the eyes of their audience.
The crisp in these kinds of campaigns is that you have to be very creative with your content.
Plus, you have to somehow relate your brand and brand image with the trend so that you can get meaningful and genuine followers.
Keep tracking the performance of Instagram hashtags
No matter how popular hashtags you use, you need to keep analyzing the results you're getting from those Instagram hashtags.
Here are a few tools to track Instagram hashtags-
Talkwalker Track Hashtags– Talkwalker allows you to track your various social media campaigns as well as hashtags.
Social Alert– Social Alert is again a great tool to track Instagram hashtags.
Hashtags.org– You can track all the needed data on Instagram hashtags using Hashtags.org.
How to bring together your Instagram hashtag strategy
Nothing works in social media marketing unless you're tracking your efforts. As of now, you know everything about Instagram hashtags, and its time to revise everything.
The biggest benefit of using an Instagram hashtag is that it makes your content more discoverable.
You can use up to 30 Instagram hashtags and there is no ideal number of Instagram hashtags that you can use.
Follow your competitors to stay aware of hot Instagram hashtags.
Always use relevant hashtags and avoid spammy and banned hashtags.
Use trending hashtags and tie them back to your company.
Track your Instagram hashtags using the tools I've given you above.

Well, that was everything about Instagram hashtags. From hashtags research to track Instagram hashtags, we covered everything about Instagram hashtags.

Using the information I've given you here, you'll be able to growth hack your Instagram easily but only if you implement everything precisely. If you think I've missed something or you want to add up something, please go ahead do comment below.